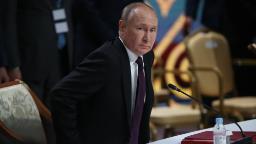 German President Frank-Walter Steinmeier visited Ukraine Tuesday for the first time since the Russian invasion started, where he condemned Russia's recent escalatory steps and promised a timely delivery of committed weapons to Kyiv. 
Speaking to reporters alongside Ukrainian President Volodymyr Zelensky, Steinmeier slammed Russian leader Vladimir Putin's "irresponsible nuclear rhetoric," partial mobilization of troops and claimed annexation of Ukraine's Donetsk, Lugansk, Zaporizhzhia and Kherson regions.  
The presidents met on the day Berlin hosted a conference on Ukraine's recovery. Zelensky in a joint statement announced he had appointed Steinmeier as the patron of the reconstruction of the Chernihiv region.  
The two leaders discussed Ukraine's economic, financial and defense needs, particularly artillery systems, armored vehicles and other weapons, according to a readout of the meeting posted on Zelensky's Telegram channel.   
Speaking in Kyiv, Steinmeier vowed Ukraine will receive a delivery of Mars2-systems plus an additional two self-propelled howitzers from Germany in the coming days.  
"Today, Germany is one of the leading suppliers to Ukraine's air defense," he said.   
"Thirty Gepard tanks, three Mars2 multiple rocket launchers, several thousand anti-aircraft guns, one of the most modern air defense systems in the world, Iris-T. I hope it will help to make people a little safer, to protect them from Russia's brutal aggression." 
This is Steinmeier's first wartime visit to Ukraine after two failed attempts in April, when he was uninvited over his links with Russia, and last week when the visit was canceled for security reasons.
The German president is considered to have had close relations with Russia in his previous political roles. Ukraine has previously been critical of Steinmeier over his links with Russia and the leading role he played as former foreign minister in improving relationships with Russian leader Vladimir Putin.